RoadQuip - Road Safety Equipment
RoadQuip® is a division of the SafetyXpress Stromberg® group. Over more than 30 years RoadQuip® has developed a comprehensive range of safety equipment and signage for use in:

· traffic and road safety
· mining
· construction
· engineering
· shopping centres and parking areas
· many other safety situations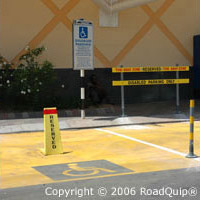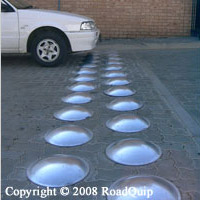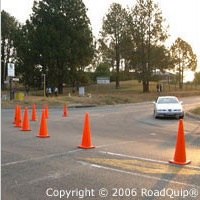 Demarcation of dangerous areas, cordoning-off of restricted access areas, have been challenging problems for many decades, however since the late 70s, RoadQuip® launched the first pedestrian barrier. Today, Safety Xpress Stromberg offers a range of barricades to redirect pedestrian and vehicle traffic that includes construction barriers, water filled barricades, expanding barriers, safety netting, traffic cones, Dura post and delineators to prevent or restrict access to closed-off areas.

RoadQuip® has successfully developed a system to calm speeding vehicles that includes the popular speed bump or sometimes referred to dome, the Speed Hump, Speed Ramp and the lightweight Portable Speed Hump.

Management of parking areas is a very complex task having to deal with illegal parking, unauthorised access, traffic flow and accidents. RoadQuip® put together a comprehensive range of parking solutions that includes a parking reservation lock, flexi bollards, wheel clamps, convex mirrors and various types of barriers and barricades.

Huge earthmovers and trucks moving on site and other dangerous situations are an everyday occurrence in the opencast mining industry. RoadQuip® has a range of equipment to help manage and protect personnel and vehicles on site including a highly visible 1,8 meter high Barrier Cone which is used to indicate the steep sides and dangerous areas and create a safe route on an ever changing environment.

Areas can be demarcated with various different colours of barrier cones to indicated what is happening or going to happen in those areas. An reflective sleeve and a solar powered night flasher adds to night time visibility. The RoadQuip® Cable Stand has been developed to identify and safety suspend cables and flexible pipes across mine surfaces. These Cable stands make sure that the cables and flexible pipes are not damaged by vehicles.

Small vehicles within a mine area need to make themselves visible to the huge earthmoving tippers and transporters and the RoadQuip® Buggy Whip Flag is an effective tool to make that vehicle more visible. This high visibility dayglo orange flag mounted with its flexible fibrematic mast is mounted onto the vehicle and moves with the wind to warn other drivers of that vehicle. RoadQuip have added a new 2 part Collapsible Buggy Whip Flag to their range making it easier to transport the buggies whip flag when not in use.

The RoadQuip® LED100 mini LED High Bright Flashing Amber Warning Light is highly effective in warning other vehicles and is easy to fix onto the roof of any vehicle with its powerful magnetic mount. This magnetic mount ensures a secure but temporary mount to your vehicle. Powered by your cigarette lighter and small enough to store in your glove compartment.

Emergency response, police, first responders that attend to accidents, and other emergencies including fires, floods, natural and manmade disasters, putting their own lives in danger. RoadQuip® has developed the 3-in-1 a Portable Signage System that is lightweight, easy to transport, easy and quick to set up and deploy. These foldable 3 sided road sign stands consist of a folding stand with a highly visible signage holder.

To further warn and to greatly help bring to the attention of motorists the dangers ahead, RoadQuip® has developed its Flashdome Cone which is a purpose designed traffic cone. The cone is fixed on a heavy dome complete with an encased high powered rechargeable led strobe.