Xpress Bump Portable Speed Bump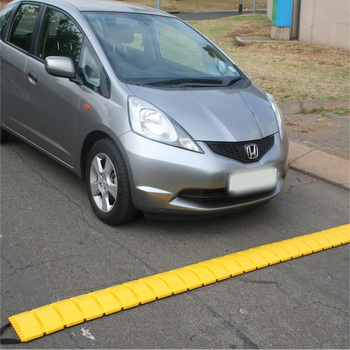 The RoadQuip® Xpress Bump is a portable speed calming system that can be deployed within 60 seconds by one person in order to effectively slow down speeding vehicles. The Xpress Bump effectively slows down speeding vehicles (from motor cars to heavy vehicles), requires no installation and is fully portable.

Every year, approximately 5 300 pedestrians are run over and killed in South Africa. Most of these fatalities occur on urban roads and are caused by speeding vehicles in residential areas, often close to schools.
---
Application

- Pedestrian crossings at schools
- Construction sites
- Churches
- Special events
- Road works
- Road blocks
- Accidents
- Temporary traffic calming
- Used to determine the correct position prior to installing a permanent solution

Features

- Quick and easy to deploy
- Deploys within 60 seconds
- Lightweight – only13 kg
- 3.5m in length (other sizes available on request)
- Compact
- Highly visible bright yellow construction
- Manufactured from virgin thermo plastic
- No installation required